We interrupt our regularly scheduled project programming due to this…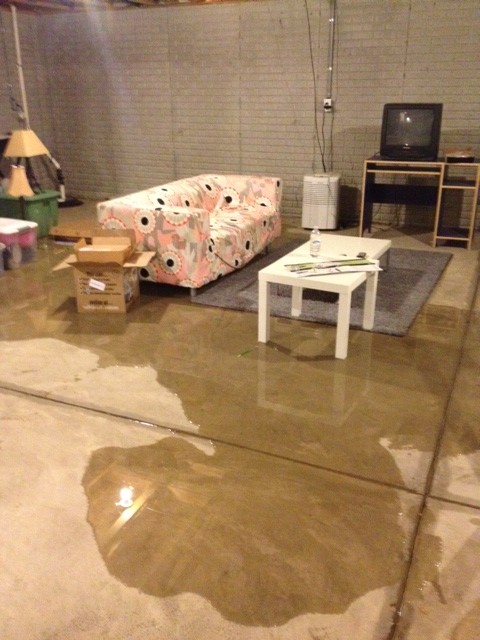 Yes that is my basement and yes that is water.
Let's travel back in time for a moment to Tuesday and Wednesday of this week when it was 60 degrees in central Ohio. And to Wednesday when we had torrential rains all. day. long.
Fast forward to Thursday evening at dinner, when my 12-year-old said, "Oh by the way, I heard this really loud banging noise before you got home. I wasn't sure if it was outside or in the basement, but I looked outside and didn't see anything."
Rather than jump up immediately – perhaps having a sense of impending doom – I calmly finished my delicious homemade dinner of sauteed chicken and broccoli.
After dinner, I started down the basement stairs, cell phone in hand. To be honest, I was thinking more along the lines that someone has kicked in my basement window and was waiting down there to kill me slowly, which really wasn't likely, considering we have glass block windows.
Imagine my surprise when what I found was my basement floor covered with water.
Um hello?!! We have a sump pump!!! Isn't that supposed to prevent that kind of thing from happening?
Turns out that the sump pump conveniently stopped working.
Here's the good news. I didn't panic. I calmly called Brad the Plumber and he agreed to come over on Friday. And then I stood there for about 20 minutes and hatched my clean-up plan.
Brad told me not to worry about cleaning up on Thursday, because if the sump pump wasn't working, there could be more water. Fortunately, most things, like my Christmas ornaments, are in plastic bins…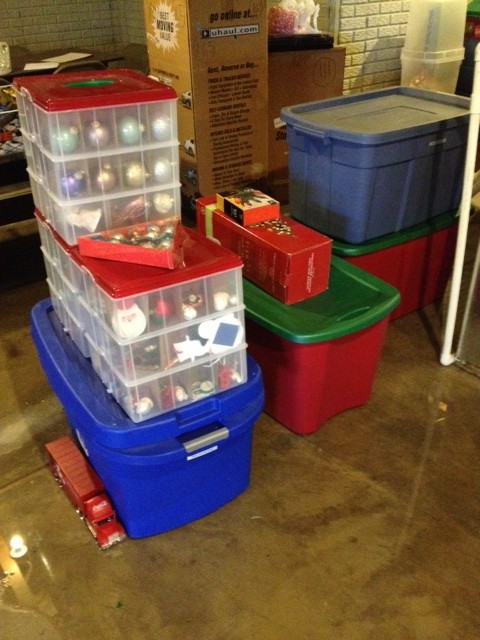 And my awesome Ikea couch in our tornado lounge is on metal legs…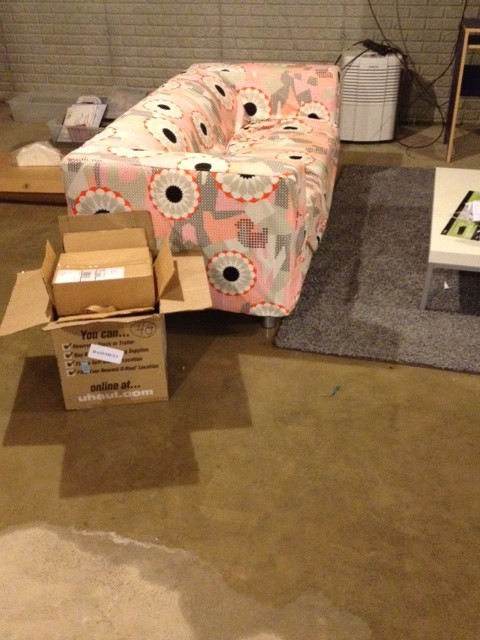 Most of the cardboard boxes were empty just waiting to be thrown anyway, which I took care of yesterday. And of course the rugs needed to be tossed.
And what was that loud banging sound my son heard? It was my artificial Christmas tree, which was in a cardboard box standing upright, which fell to the floor once the cardboard was too wet. You can see it here, waiting for my next steps, which will likely be dragging it upstairs to air out (meaning that I will have to put up a Christmas tree in February when I can barely get through December).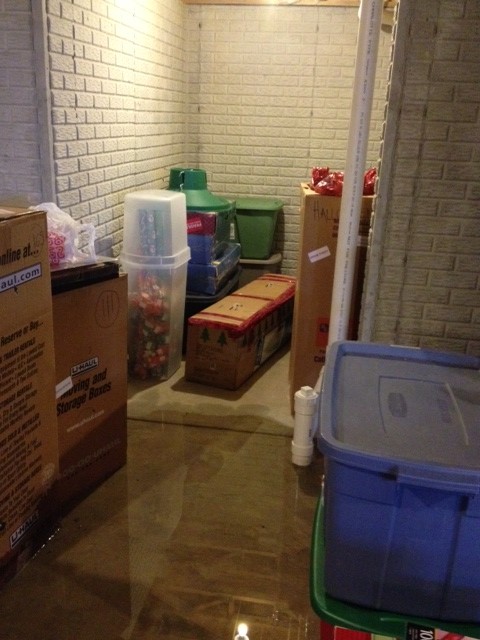 It's now Saturday morning, the sump pump has been replaced, much of the clean up has happened, and the water has mostly receded.
Lessons learned?
Store your crap in plastic for the love of Pete!
These pics were saved because they were in a plastic bin rather than directly on the floor or in cardboard…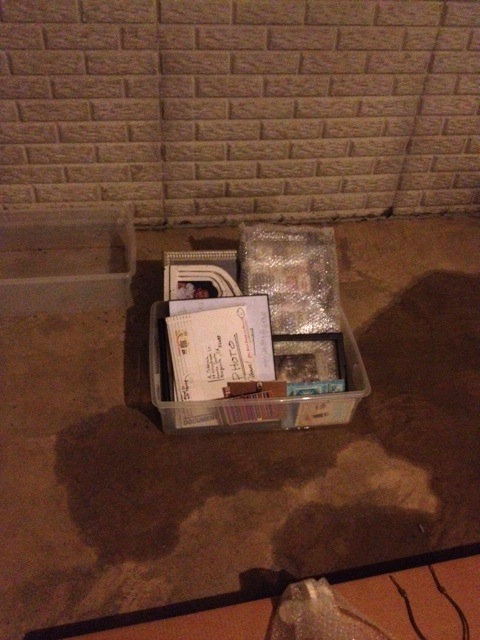 This piece of Ikea furniture that I left in it's cardboard packaging and haven't put together may be ruined…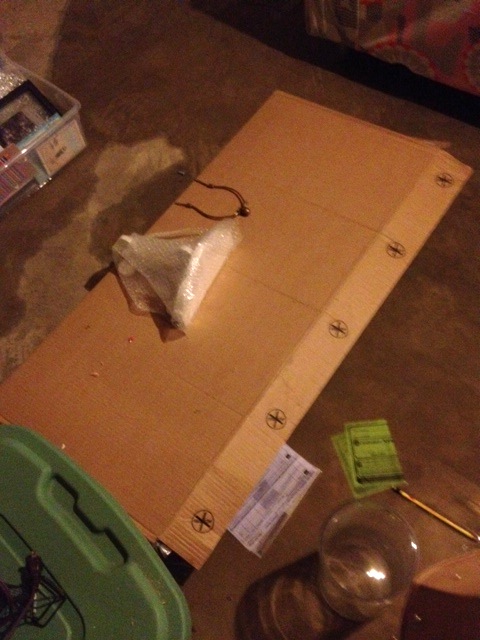 Don't assume your mechanicals will always work.
Sump pumps and other mechanicals will eventually stop working. Usually when you need them most.
Get rid of crap you don't need.
Honestly, I've been avoiding my basement for a while. This mini-deluge was actually just what I needed to get off my ass and clean it up down there. Next time I shouldn't wait so long (but honestly, I probably will, because as you already know if you read this blog, I'm generally a lazy human being).
I'm going to donate any holiday decorations that I don't use anymore, knowing that I'm just not the kind of person who goes all out on holiday decor.
The kids' crappy art table will be going as well. No one uses it anymore. Ditto for toys that are no longer in use.
Same goes for decorator items that I'm not currently using. They need to go. No saving for decorating emergencies!
Don't panic!
Seriously, don't panic. There's not a lot aside from illness and loss of life that can't be fixed. In fact, I was really proud of how well I handled this whole ordeal. I didn't have the extra time or money to spend on a flooded basement, but I didn't have a choice in the matter so I handled it to the best of my ability. There's still more clean up to be done, but I'm getting to it little by little.
I'm glad I don't have a finished basement
I've always been pretty neutral about finished basements. Our house is big enough that I don't feel that we need to finish the basement for the extra living space. We mostly use it for storage and as a place to run and hide when there's a tornado warning. Plus the kids will occasionally venture down there to play foosball or air hockey. As of Thursday, I'm relieved it's not a finished basement. That would have been a much bigger mess.
And last, but certainly not least…
Make sure your ex-husband gets his crap out of your basement
In the spirit of keeping the peace, I haven't made a big deal out of my ex-husband still having some stuff in my basement. In fact quite a bit of stuff. Even though yesterday it was 3 years to the day that he moved out! And in fact, this is his stuff on the shelves…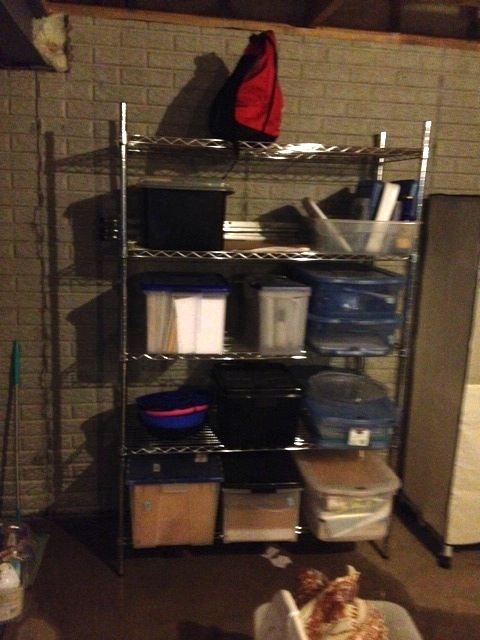 …while much of my stuff is on the floor. Getting wet. So that crap ends this weekend. His belongings are leaving my house this weekend. Do I sound bitter? Perhaps a bit, since I'm spending my time and energy cleaning up after his crap. 'Nuff said.
Now that I've been doing all of this basement clean up, I'm excited to spruce up our tornado lounge a bit, since this is where we spend our time when the tornado sirens are blaring. Project pics coming soon!