Do you have a project that was just your favorite ever?  I'm sure most of us creative types do.
That's the question that Donna over at Funky Junk Interiors was asking this weekend.
And even though this may not have been my best design ever, or my hippest project ever, it certainly stands out as my favorite.  And the one that helped sell my previous house.
The fish bathroom.
Yes, that's right, the fish bathroom.  I painted the kids' bathroom in a light sea foam green, then started painting all manner of sea creatures.
What I loved about this project were the flat, two-dimensional sea creatures, who were embellished with three-dimensional elements, like buttons for the suction cups on the legs of an octopus and false eyelashes on the mermaid.  Perfect for touching, and we all know little kids love to touch texture.
Heck, adults like to have some fishy fun, too!  When we decided to move from California to Ohio, our wonderful realtor told us to leave the fish bathroom as it was, because surely some parents with young kids would love it in our neighborhood of starter homes.  This was true, however, it was a middle-aged gentleman and his wife who bought our home, and one of the reasons was that he loved the fish bathroom!
So here goes…my favorite project ever…the fish bathroom…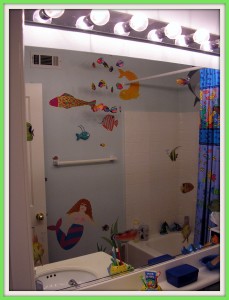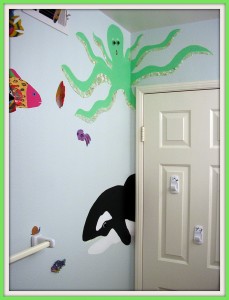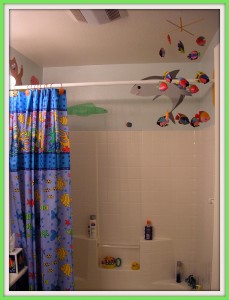 There was a whale hiding behind the door…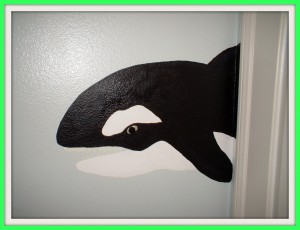 Topped by an octopus with buttons for suction cups…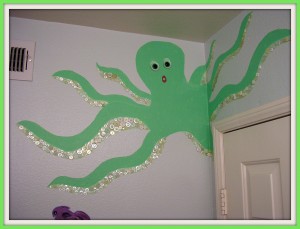 A mermaid & "real" jewels spilling out of a treasure chest…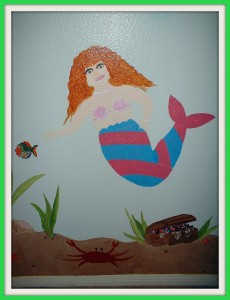 A scary shark…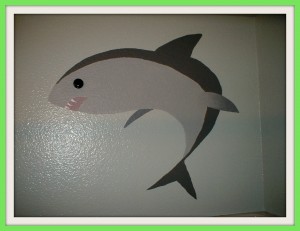 A swimming bear (inspired by a swimming bear on a pair of my then-toddler son's pajamas)…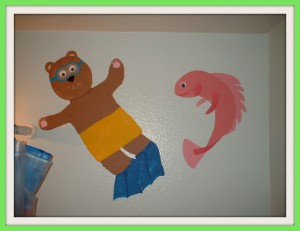 And two of his tub toys made into the mix as well…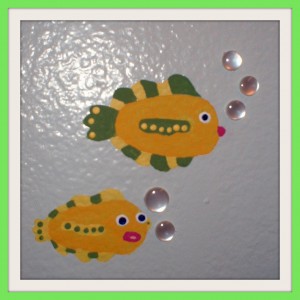 And many other crazy undersea creatures, like leopard fish…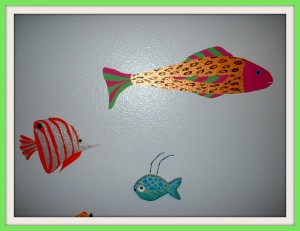 Plus big goldfish & little goldfish…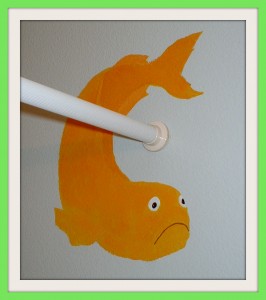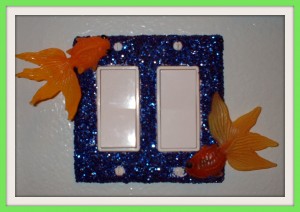 And even a sign outside the bathroom door…enter at your own risk!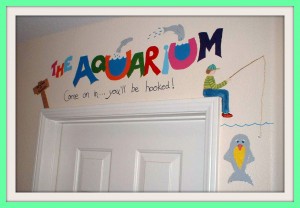 Oh how I loved that project!  Best. project. ever.
In fact, I loved that entire house.  It was our home for 10 years, and a lot of life was lived there.  It was a special place, and I miss it.  Perhaps I'll dig back through my photo archives and share more of the funky designs that lived there.