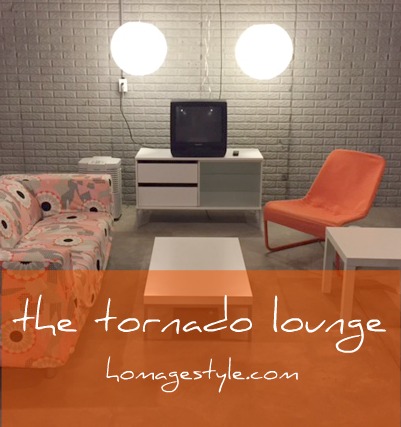 Living in central Ohio, there is an occasional tornado. And more frequently than actual tornadoes are tornado warnings.
Things get all conflabbergested when there's a tornado warning (for those of you not living in the Midwest, this means that a funnel cloud has occurred or is imminent based on radar) – the tornado sirens go on and the TV meteorologists get all serious, trying not to look as excited as they are about the impending weather phenomenon, and people are advised to take shelter.
Where? In your basement if you have one.
Well we have one. It's unfinished and inglorious. Not exactly a place where people are dying to spend time.
But since we do head down there at least on several occasions each spring and summer for the inevitable tornado warning, I wanted to put together a little something that I call the Tornado Lounge. A mod little place where we can cool our heels while the weather does its thing.
Introducing the Tornado Lounge…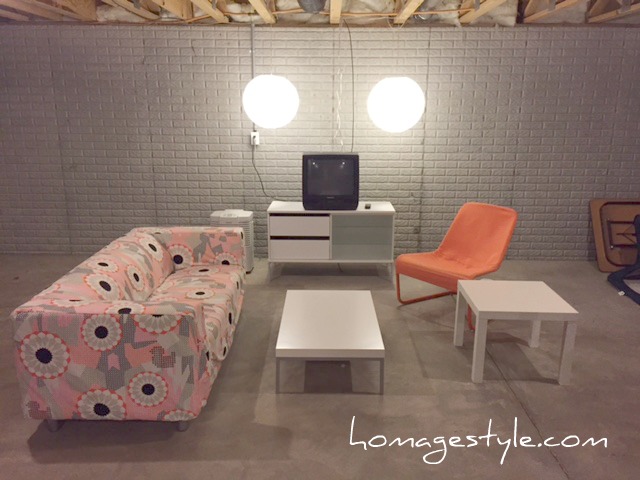 It's got a lofty, industrial mod feel with the exposed rafters and the concrete floor and walls. Perfect for the occasional hangout in the basement. (And don't mind the folding table off to the right of the pic…it *is* my basement after all.)
Just about everything is from Ikea – couch, coffee table, side table, TV stand, and orange chair. The orange chair is actually from Ikea by way of my local town's Facebook buy/sell housewares page, where I picked it up lightly used for a mere $15! If you're not already a member of your local Facebook buy/sell, I suggest you check it out.
The coffee table and TV stand are older products from Ikea and no longer available. Ditto for the couch cover. Needless to say, several aspects of this project spent some important curing time. I mean, why should this project be different than any other of my projects? It wasn't until I asked my gentleman caller for help putting together the TV stand that I was finally able to finish this project.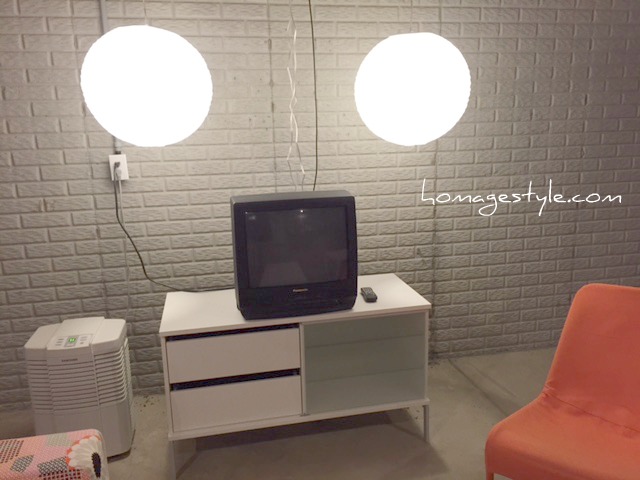 The paper lanterns and light kits are from World Market. And the dehumidifier is, well, a necessity.
I figured that the hanging cable wire and lamp kit wires were no big deal in this setting and just add to the industrial feel of the space.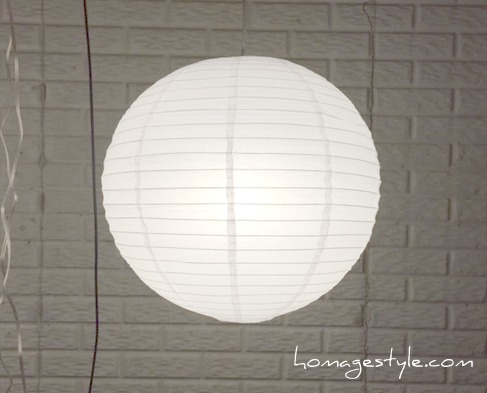 Now let me give you fair warning in the event that you've never hung a paper lantern before…you need to get rid of your need for perfection, because these damn things will not hang perfectly straight. Trust me. I tried. And tried. And tried again. So get comfortable with imperfection folks.
Not too bad for a Tornado Lounge!
Now off you go to design your own Tornado Lounge…don't get caught without one in bad weather!