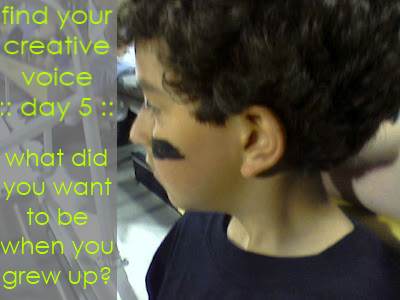 This is the fifth installment in a series, Find Your Creative Voice, based on the article 10 Questions that Will Help You Find Your Voice over at Accidental Creative, because it's so important to find your voice when building a comfortable nest, be it a one room apartment or a sprawling mansion. I will be answering the questions that author Todd Henry has posed, and I hope that you will answer them too.
In case you missed the first, second, third, or fourth installment…

Question 5 :: What did you want to be when you grew up?
Or, if you don't think you've grown up yet, what do you want to be when you grow up?
To be honest, I went through a heavenly host of career choices as a kid, from teacher to writer to actor to brain surgeon, and finally to opera singer, which is what I ended up studying in college. And is not what I'm doing now.
While it's quite motley selection of professions, one thread runs through most of them – creativity.
I've always been a creative type, beginning with Mom-inspired crafty projects and knitting and sewing. But the difference between me and my mom was that I was always a crafting risk taker, which would end up serving me well in my adult life, allowing me to just jump in and do things – decorating things, that is – that might scare most people. After all, what couldn't be solved with some Kilz and a couple of coats of paint?
It wasn't until I owned a home that I was exposed to what I consider to be my true talent – decorating and renovating homes. A late bloomer of sorts. Which is why I don't always think there's a clear-cut direct link from your childhood dreams to your adult talents. Sometimes, it's more of a progression. Learning this and that, leading to the next thing, then the next, and suddenly you realize what you want to be when you grow up. Even if you're already grown.
And sometimes it's a case of having other life responsibilities when you finally figure out what you want to be when you grow up. Like me. So that's when it's critically important to do little things to feed your creative soul, and if you want to go in that direction, make plans to gradually transition into your new career as your reponsibilities permit.
Honor your path, no matter what it is. And every week, do a little something, moving you toward your new creative life!
What do you want to be when you grow up?
Feel free to start a dialogue on the subject of creativity and what you want to be when you grow up in the comments and on the Homage Style Facebook page.
Up next in the series…If you had all the time and money in the world, what would you do?